Upon getting delivery of your Native Instruments hardware from SudeepAudio.com, without any delay:
create or login to your Novation user account here >>
register your product serial(s) on NI Access, as explained below
Native Access is an administration tool for product activation, installation and updates for all your Native Instruments products. It can be found in the following directory:
Mac: Macintosh HD > Applications > Native Access
Windows: C: > Program Files > Native Instruments > Native Access
Before installing your NI hardware, please read these instructions carefully. Go here >>
FAQs on Native Access given here >>
When purchasing a Native Instruments hardware product, you will find a registration card in your product box like the one pictured below. In this example, the bottom of the card shows the MASCHINE serial: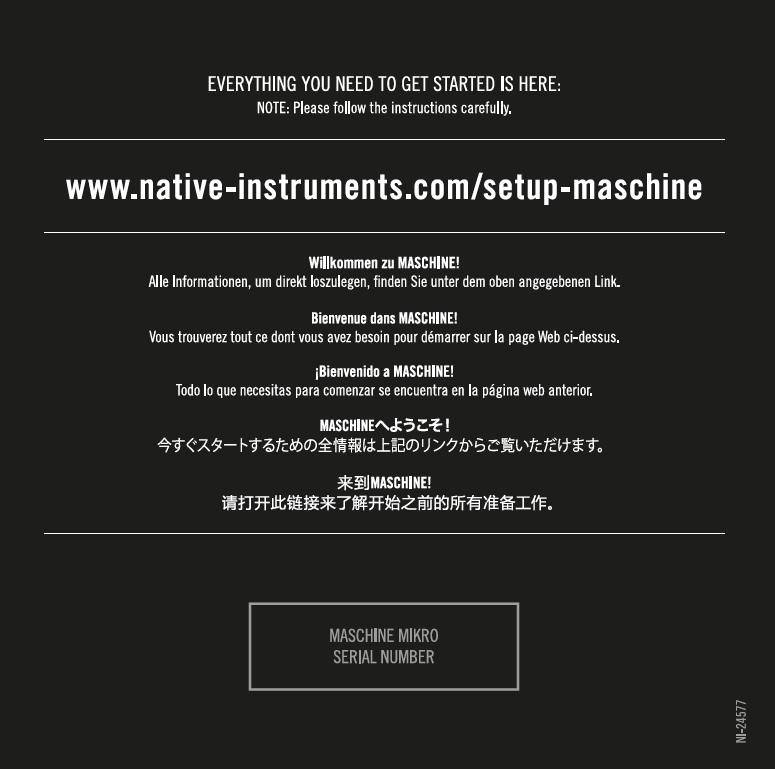 Read and follow the instructions given carefully for a smooth and quick installation of your NI product(s). Go here >>
To obtain specific 'Getting Started' instructions for your particular NI device, please use the link printed on the flyer contained in your NI product's box.
As an example for NI Maschine, you will find the 'Getting Started' instructions for MASCHINE under:
www.native-instruments.com/setup-maschine
Select your purchased NI hardware product and watch getting started videos, setup process and much more.
Go here >>
Use our self-help wizard for TRAKTOR issues to diagnose, watch tutoREals and easily solve your problems here >>
If your issue is not solved, you can submit a support request on the NI website from your NI user account.
FIRST, try troubleshooting with the Hardware Solution Wizard here >>
Should service be still required within the period of warranty or even later, please contact us.
In India, the authorised service centre is located in Chennai.
Shipping costs of sending and getting back the product(s) to and from the service centre are borne by the customer.
Our invoice is also to be sent along as proof of purchase.
The service centre will update you on the cost of repair and/or parts not covered under the manufacturer warranty terms.
Rest assured, our SA team will assist you all along this process – whether the product is in warranty or not.
8 ways to humanize your MIDI drums
8 more ways to mix better
Native Access is your one-stop hub for easy product installation, registration, and updates. Open Native Access and log into your Native Instruments account to get set up.
——————————————————————————-
KOMPLETE Software:
Compare Komplete versions here >>
To get installation steps to install Komplete software, go here >>
Registering and installing an NI product
Use the NI self-help wizard for any installation issues to diagnose and solve your problems quickly and easily.
If your issue is not solved, you can submit a support request via your Native Access user account.
Go here >>
Registration and Installation
Uninstall NI software on Mac